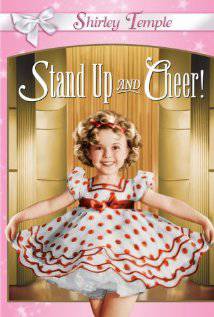 Release name: Stand Up and Cheer! (1934) DVDRip
Size: 514.03 MB
Title : Stand Up and Cheer! (1934)

IMDB Rating :5.8

Genre : Comedy / Musical

Runtime : 68 MIN

IMDB
File: Stand Up and Cheer! (1934).avi Size: 539002880 bytes (514.03 MiB), duration: 01:08:59, avg.bitrate: 1042 kb/s Audio: mp3, 44100 Hz, stereo, 128 kb/s Video: mpeg4, yuv420p, 640x480, 29.97 fps(r)
Provider : barni
Plot :
President Franklin Roosevelt appoints a theatrical producer as the new Secretary of Amusement in order to cheer up an American public still suffering through the Depression. The new secretary soon runs afoul of political lobbyists out to destroy his department.
---
Buy Premium Account & Support me to post more stuff for you.
http://secureupload.eu/0w5n5mfcrkm7
---
Dear visitor, you are viewing Stand Up and Cheer! (1934) DVDRip as Guest.
We strongly recommend you to register and login to view hidden contents.
We tried to provide download links from best sources on internet.
our source are clean , safe and will check for any malicious .
Feel free to report dead links or a problem in Stand Up and Cheer! (1934) DVDRip files .Your are allow to post your (mirror , subtitles, samples, free download, quality, crack keygen or whatever-related post) comments here.